You've probably heard about the SCHUFA while browsing for apartments in Germany. It has a huge impact on our daily life, German, and expat alike. Learn more about what is it, why it is needed and how to get it in this blog post!
What is SCHUFA?
SCHUFA stands for Schutzgemeinschaft für allgemeine Kreditsicherung, in other words, the German credit score. It shows your creditworthiness, which is calculated from your past financial behavior. A company called Schufa Holding AG collects information from various sources, including bank accounts, debit cards, mobile phones, and others, and creates reports about your financial reliability.
When you register your apartment, open a savings account, get internet access for your flat, or get a mobile telephone contract, you automatically begin your SCHUFA records. Each provider asks SCHUFA for permission before accepting you as a new client and thus leaves a record.
Your credit score doesn't depend on your employment situation or income; rather, it depends solely on whether you pay your debts on time.
How to get a paid SCHUFA report (BonitätsAuskunft)?
The paid SCHUFA report is called "BonitätsAuskunft".
Note that most landlords require a recent SCHUFA report. It would be best if you buy one when you first begin searching for an apartment. You can easily get a Bonitas Auskunft by ordering it online here! To buy the paid version of the SCHUFA report, click "Jetzt bestellen." It costs €29.95. You should receive your BonitätsAuskunft in a few days by post.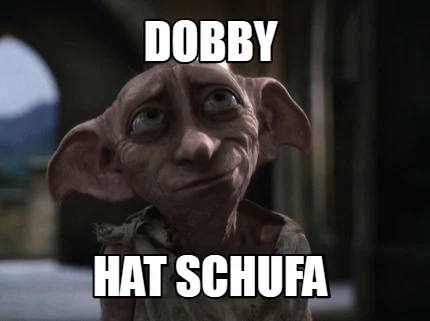 How to get the SCHUFA for free?
You can get it free once per year. However, the free version is for your own record only as it contains your personal data. For official use, the paid SCHUFA record must be used. You place an online request for the free report and it will be delivered to you by post. Remember that it may take up to four months before the document arrives.
Here's how you get your free Schufa: Click here, and you'll be taken to a page where there are two columns; one column is for free, and it's labeled "Datenkopie". Click on "Jetzt bestellen" and you'll get taken to a page where you need to enter some details.
What is a good SCHUFA score?
A very high SCHUFA is at least 97%, and a good one has a minimum of 95%
You begin with a baseline score of 100% when you first get started.
What determines your credit score?
It is determined by whether you've paid all your bills on time and in full. Your previous U.S. (or Canadian) scores don't affect your German SCHUFA, and you cannot use your American scores to apply for loans. With Germany, you get the benefit of having most, if not all of your bills paid automatically every month by bank transfer, so you don't need to worry about forgetting to pay them. You should avoid opening too many bank accounts and too many credit cards at once, and switching banks too frequently.
You shouldn't make frequent uses of your overdraft. Sometimes you may need to overdraw your account. To stay financially sound, it's best not make it a regular habit.
Who actually wants to know your SCHUFA score?
Unless you opt for an account without the Schu­fa minimum requirements, banks usually check your credit rating before approving you for an account. When applying for a loan, your bank also checks your credit worthiness, and your SCHUFA to find out how much interest you might be charged for that loan. Higher risks for the banks mean higher interest rates.
When applying for a new phone or internet plan, or renting a place to live, you need to be aware that they may check when you applied. These companies will be capable of checking your SCHUFA and determining whether you have any unpaid debt, and if you can trust them as a customer or tenant.
Having problems in communicating with your landlord because of language barriers? We can help with that. Simple book a helper here to do the talkings for you!